This work is probably one of the most enigmatic ones in the Centre Pompidou. At least to me, it doesn't say absolutely anything at a first glance. In reality, it contains much more: let's examine its particularities together!
First of all, Robert Smithson is not know for this kind of works, he is one of the most important land artist of all times (click here to know what Land Art is). He is mostly known for the Spiral Jetty, a monumental work in the Utah's Great Salt Lake. As you can probably see, these works are very different from each other, and you would unlikely recognize Quick Millions to be a work by Robert Smithson.
Moreover, what does it suggest when looking at it? To me, something related to comics, to superheroes. Superman? Wonder woman? It probably vaguely recalls Marvel's colors. The color blocks, the brightness of the shades, the black thick lines probably convey this idea. In fact, in contemporary art this was a trend going on during the same years as Smithson's work: it was called Pop Art. But while Pop Art works with existing images (think for example of Andy Warhol's Marylin, or Roy Lichtenstein's comics paintings), in this case Smithson works with just allusions.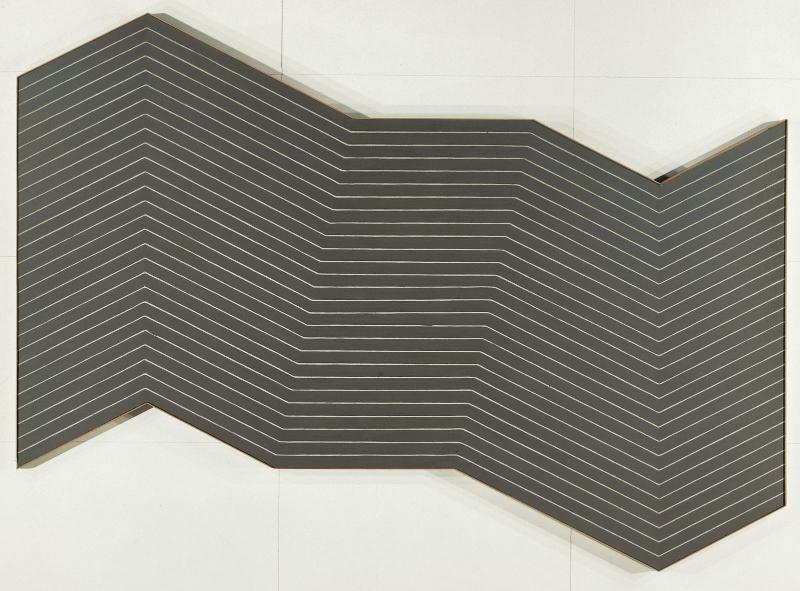 The Centre Pompidou strategically placed this work in front of a canvas by Frank Stella, another big artist of those times. But now we are in a very different field: Minimal Art. The most interesting feature of Frank Stella, among the others, is the fact that he adapts the shape of his canvases to his necessities, instead of doing the opposite. The same thing happens here, even though we are not in front of a canvas – strictly speaking – but plastic.
Robert Smithson is putting together two trends that were very popular at that time, Pop Art and Minimal Art, and calls the work "Quick Millions". Knowing that Land Art is completely against the market, against the commercialization of art, it of course seems like mocking other commercial kinds of art.
In conclusion, this is a very clever critique on other artists of his time.